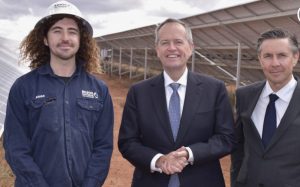 Under the backdrop of two of Australia's biggest solar EPC companies declaring bankruptcy, SSE is
still going strong with its second utility scale solar farm nearing completion. We always keep our feet
on the ground and make sure we only bite off what we can chew. Stay tuned for the commissioning
event for Yongala Solar Farm!
Opposition leader Bill Shorten has visited SSE's first utility scale solar project – Whyalla Solar Farm
today. Mr Shorten has met with SSE's local maintenance contractor Bilson and was very impressed
with the farm. As a regional city with excellent electricity infrastructure and plentiful suitable land,
Whyalla has attracted many aspiring companies, including mining giants like Adani, exploring the
prospect of building solar farms there. But so far, SSE is still the only company that has successfully
commissioned a solar farm there. We are proud to have hosted Mr Shorten today. SSE will always
welcome people with a vision of a renewable future with open arms.