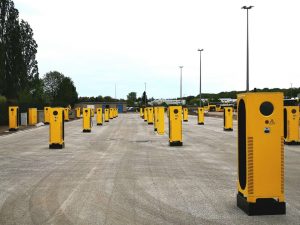 XCharge is presenting its new fast-charging solutions for electric buses at Busworld. Together with Stromnetz Berlin, XCharge has already installed 30 DC chargers for BVG's electric buses in Berlin this year.
The devices include the new version of the C6EU and the C9 eBus with two charging cables. According to the announcement, charging capacities of up to 360 kW are possible, and the products should also comply with the German calibration law – however, the wording leaves open whether they merely comply with the specifications or whether XCharge has already received the corresponding certificates.
Thanks to their modular design, the electric bus chargers can be retrofitted to further increase charging performance. The charging stations can be monitored wirelessly, and the maintenance system is also intended to optimize efficiency when charging large fleets and energy consumption.
"We are pleased to offer a more flexible charging solution tailored to clients' needs," said Simon Hou, COO and co-founder of XCharge in the announcement. "Years of solution experience supporting some of the busiest charging stations in the world has helped us stand out."
At the show, XCharge was able to introduce its first prominent customer: Together with Stromnetz Berlin, the Chinese manufacturer equipped a BVG depot with 30 DC chargers with a total output of 3 MW. The system has been in operation since the beginning of the year, where the Solaris and Evobus electric buses from the BVG fleet are charged.
Resources:
Chris Randall . 2019. https://www.electrive.com/2019/10/17/xcharge-presents-fast-charging-solutions-for-electric-buses/